"All power and authority in heaven and on earth has been given to Me. Go therefore and make disciples of all nations, baptizing them in the name of the Father, and of the Son, and of the Holy Spirit, teaching them to observe everything I have commanded you, and know, I AM with you always, even to the ends of the earth." ~ Jesus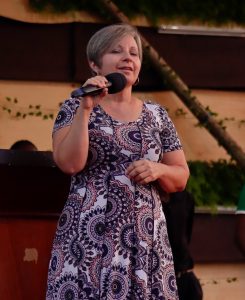 Heart of Christ International (HCI) was founded in 2010 by Kimberly Myers when a lifetime dream to be involved in foreign missions became a reality. In the early days, her only desire was to assist others in accomplishing their vision. She worked with joy as a support alongside leaders in a variety of ministries in the U.S. and abroad. 
In 2013 she joined Iris Global Ministries in Dondo, Sofala, Mozambique until the Lord called her to Japan in late 2014. In Japan, she worked with Heart for Japan to establish a Missions base in the rural mountains of Myoko Kogen, Niigata. During that time she joined the Apostolic Network of Global Awakening (ANGA) and began the credentialing process.  Then, much to her surprise, in early 2016 the Lord moved her once again. This time, back to the U.S. where He soon spoke to her heart that she should go to school at Global School of Supernatural Ministry(GSSM) in Mechanicsburg, Pennsylvania.
GSSM is a three-year ministry school started by Dr. Randy Clark. Dr. Clark is the founder of Global Awakening, the Apostolic Network of Global Awakening (ANGA), the Apostolic Resource Center (ARC), Global Awakening Theological Seminary (GATS) and the Revival Alliance. Kimberly is a third-year GSSM alumna and is ordained through Global Awakening as an itinerant minister.
In May of 2017, the Lord instructed Kimberly to begin taking teams into the rural areas of third world nations to equip the saints for the work of ministry. It was during this time that she began to understand that her desire to assist others in accomplishing their vision and the Lord's obvious call on her own life were not in competition, but rather, were one and the same. It is from this place, that EquipNations was born.
Equip Nations is the DBA of Heart of Christ International and the fulfillment of promise and many prophetic words connected to Isaiah 61, Matthew 10 and Matthew 28. Today Kimberly speaks in churches, training seminars and conferences, and leads teams internationally to equip leaders and the saints they serve, for the work of ministry. It is her passion, like the Apostle Paul, that her message not be with persuasive words of men, but in demonstration of the Spirit and of power.
The teams that travel with Equip Nations are often comprised of GSSM alumni and ANGA partners. However, there are always team positions available for others who desire to see healings and miracles accomplished through their hands, but have little, or no previous experience with the demonstration of the gospel through healing and other gifts of the Holy Spirit. While international trips often include ministry to orphans, widows and others in various kinds of need, the focus is on leadership and/or church-wide training related to healing ministry. This is undergirded with sound Biblical foundation and supported by topics such as identity in Christ, purpose, and destiny. It is all brought together in the reality that we are one Body, in need of one another, to establish the culture of heaven in the earth.